Patna: As part of the Celebration of the Spring season, Tarumitra students inducted a fairy tree house on a Kamroop (Fig)tree (Ficus Microcarpa) in their Bio-reserve in Digha (March 1). Tiny tots from Notre Dame Montessori and high-schoolers from S.R Vidyapeeth and Adarsh Bal Vidyalaya along with their teachers climbed up the tree house built by students from Assam and Bihar.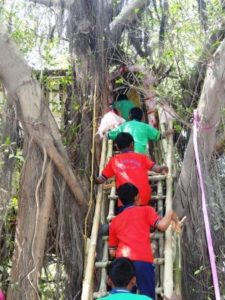 Adding to the excitement of the children, Chief Guest on the occasion, Ms Glenda Gaulstan, Principal, St. Dominic Savio's High School and Guest of Honour, Sr. Mary Namrata SND, Headmistress, Notre Dame Academy cut the ribbon and blessed the tree house.
It was an extraordinary day at the Tarumitra Bio-reserve of rare and vanishing trees. ( Haven't seen a Rare and Vanishing Tree? Come to Taru Mitra, easier to locate than Hogwarts! You will definitely find a few absolutely enchanting trees threatening to vanish!)
With the spring season in full bloom, a new tree house (fairy home) was inducted amidst the presence of students, educationists, well wishers and above all children of Patna schools. (Induct means to admit someone. So you see, the Grand Guardians of  Taru Mitra, who have knowledge of the most magical sort, know that this fairy house is living, breathing, and most enchanting. So we admitted her to our wizardly wonderful Friends of Trees  family!)
Students from Assam and Bihar worked hard for more than a month for making the second tree house of Tarumitra in its premises. Software engineer and the chief architect of the tree house, Shashidarshan opined "This tree house is a step towards students, especially, children befriending nature more closely."
Built on the rare Kamroop tree, this tree-house nestles approximately 20 feet high, having a washroom too in its lay out. (Nestle means to rest yourself or part of your body in a warm, comfortable, and protected position. Birds also nestle in the Kamroop tree. So here our fairy house has also perched herself on this almost Vanishing Tree, and nestles with her bird friends. Cool, huh!)
"The house will be powered by solar energy!" said Akshay from Assam who labored with bamboos to make the dream come true.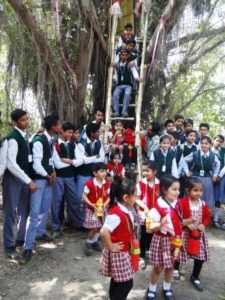 "This tree house is a step towards visualizing a simpler and greener lifestyle with a close bonding with tree-friends " said the resident organic farmer and educationist Ms Margaret Molomoo from Darjeeling. "Our aim of igniting the young minds with a sense of reverence and respect for Mother Earth gets solidity on the tree house" she added.
Paramjeet Kaur, a specialist on timber products said, "Bamboos can last up to 100 years or more if treated well. It is recyclable in many ways and has multipurpose usages. The idea behind tree house is also to promote bamboo architecture and making it a part of our daily lives."
The program was followed by organic feast and refreshment straight from the Tarumitra organic farm. Present also were Principals and teachers from various schools along with Rev. Fr. Bobby Vadakkel from Bangalore.
[Did you know? Ficus microcarpa, also known as Chinese banyan, Malayan banyan, Taiwan banyan, Indian laurel, curtain fig, or gajumaru, is a tree native in the range from China through Nepal, Bhutan, Sikkim, India, Sri Lanka, Taiwan, the Malay Archipelago, New Guinea, Australia, the Ryukyu Islands, and New Caledonia. It is widely planted as a shade tree and frequently misidentified as F. retusa or as F. nitida (F. benjamina) -editor]
Report (The serious stuff) by Ms Devopriya Dutta, Taru Mitra. The stuff within brackets by the Editor.