Martyred Indian Sister Rani Maria Vattalil, who was slain by an assassin 22 years ago in central India was proclaimed a 'Blessed' at a beatification ceremony at the start of a Holy Mass in Indore, Madhya Pradesh state on Saturday, Nov. 4.
The nun belonging to the Franciscan Clarist Congregation was 41 when Samandar Singh, hired by some landlords, stabbed her inside a bus on February 25, 1995. She was traveling to Indore, the commercial capital of Madhya Pradesh state, on her way to her native state, Kerala, southern India. The attacker followed her when she ran out of the crowded bus and continued stabbing her. She died on the roadside at Nachanbore Hill, near Indore. Her body bore 45 stab wounds. Samandar Singh has repented since then.
Sr. Rani Maria was targetted for empowering the poor and downtrodden from being exploited by money lenders and unscrupulous businessmen.
Beatification is the penultimate stage in a long process in the Catholic Church for a candidate to sainthood or canonization. The cause of Sr. Rani Maria's beatification and canonization began in 2003 and she was declared a Servant of God four years later. A miracle through her intercession will now be needed to clear her for canonization.
To know about the beatification of Sr. Rani Maria, we contacted , where Italian Cardinal Angelo Amato, Prefect of the Vatican Congregation for the Causes of Saints, will preside over the Beatification Mass on Saturday. Talking to Vatican Radio on his mobile phone, Bishop Chacko Thottumarikal of Indore  first explained what the recognition of the martyrdom of Sr. Rani Maria means to local Christians and Catholics as well as to the Indian Church and the nation.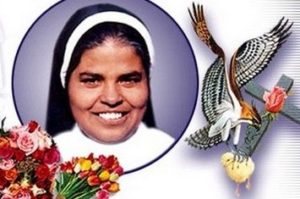 Bishop Chacko regarded Sr. Rani Maria's beatification "a great blessing" for the Catholic Church of India, especially central and north India. He noted that after the canonization of Mother Teresa of Kolkata (Calcutta) in Rome, Saturday's beatification was the first time such an event is taking place in central and north India. Rani Maria's work for the poor, the downtrodden and the exploited, he said, will be an inspiration for missionaries who work in similar fields amidst opposition.
Bishop Chacko said that the thanksgiving Mass will take place on Sunday, Nov. 5, in Udainagar, the village where Sr. Rani Maria worked and is buried. Apostolic Nuncio, Archbishop Giambattista Diquattro will concelebrate the Mass with 12 bishops at the tomb of Sr. Rani Maria, for some 2000 people. The beatification Mass will be streamed live on YouTube and some television channels.