It is over five months since the military junta deposed Myanmar's elected government, and the situation remains a human rights catastrophe.
Efforts towards regional diplomacy have not borne results. The five-point plan adopted by ASEAN in April is yet to be implemented and has not resulted in any efforts towards de-escalation, or lessening of loss to life. Instead, armed conflict and other violence are intensifying, with violence particularly intense in areas with significant ethnic and religious minority groups. We urge the Council to ensure that any measures it takes this Session to address intersecting crises in Myanmar takes into account this full context.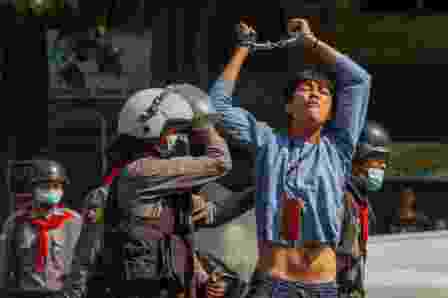 Sweeping arrests of activists, journalists and opponents of the regime have continued across the country. Thousands have been arbitrarily arrested and detained and some have been tortured or ill-treated. They include human rights defenders, trade unionists, student activists, poets, writers, filmmakers and monks. Activists face baseless charges including 'treason' which is punishable by up to 20 years in prison or 'incitement' which is punishable by up to three years in prison.
At least 88 journalists have been arrested since the coup, as well as lawyers defending political prisoners. Dozens have fled the country or have sought refuge in territories controlled by ethnic armed organisations. The internet shutdowns, which began following the coup, have now reached a new level of severity.
The people of Myanmar cannot afford to wait and see if regional diplomacy efforts will take effect. We call on States to call for the release of political prisoners and ensure an end to a free-flowing supply of weapons to a military which shows no intention of ending its campaign of bloodshed. We welcome that several States have imposed targeted sanctions on key individuals of the military and call on other States to do the same. It is the responsibility of States to ensure that perpetrating human rights atrocities bears a cost.
Speech by Liza Mazumdar at the 47th Session of the Human Rights Council