Three masked men tied up a Catholic priest and robbed him of his money in broad daylight in the Raipur archdiocese of Chhattisgarh.
Father Varghese Thekkekut, is  parish priest of St. Theresa of AvilaChurch  at Bagbahra in Mahasamund district. The parish is 89 km east of Raipur, the state capital.
The men called on the priest on Sunday afternoon (June 18) and made off with about 130,000 rupees.
Father Thekkekut said he was reading a newspaper in his room after the Sunday morning Mass. He then saw three masked men surrounding him and asking to be prayed upon. As the priest asked them to go with him to the adjoining church. Then, one of them told him to pray there itself, whipped out a gun, and forced him on his cot.
Pulling out a pistol from his pocket, the intruder demanded, "Where is the maal?" (meaning money). While one kept pointing the gun at the 69-year-old priest, the other two searched his room. They found the cash in his shelves.
"I had kept so much money with me – donated by my personal benefactors – to help the needy students at the beginning of the academic year and for the crop cultivation in our fields," the priest said.
They tied the priest's hands and feet, they locked in his room and vanished. "Maaf karna (Excuse us)," said one of them, making the sign of the cross as they left the place.
The robbers took his mobile too, although Father Thekkekut pleaded with them not to take it. They left it outside the presbytery and the police have given it to fingerprint experts. Father Varhgese said the police have taken serious steps to identify and arrest the miscreants.
The short-statured priest somehow managed to free himself and get out of the room, says an article in Catholic Matters.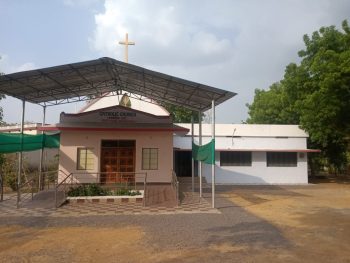 Father Thekkekut lives alone in the 46-year-old parish of some 100 parishioners. The Sisters of the Congregation of Teresian Carmelites manage an English medium higher-secondary school in the campus. Their convent lies next to the church.
The town CCTV camera footage showed three masked young people going on a scooter. The police have gone to the neighbouring state of Odisha to identify and nab the culprits, Father Thekkekut said June 20.
Police Official Garima Dadar briefed the media that it was the first time the church had been looted, although there had been thefts in the local temples. But, she said, it was shocking that this had happened during the day.