Hangzhou, China – China kicked off the torch relay for the eagerly awaited Asian Games on Friday, with thousands of enthusiastic spectators lining the streets of Hangzhou, the host city. The event had been postponed due to the COVID-19 pandemic, but now it's back on track, sparking joy and pride among the people.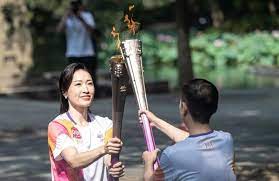 Fans, waving miniature national flags, gathered around the picturesque West Lake area hours before the official 9:00 am launch ceremony. The torch was ignited by two prominent officials, marking the beginning of an exciting journey. The flame will be paraded through the streets, carried by national luminaries, before the Asian Games officially start in Hangzhou on September 23.
Originally scheduled for September last year, the Games had to be postponed due to China's strict zero-COVID rules. However, these measures have since been eased, allowing the event to proceed as planned.
The torch relay is a significant part of the pre-game festivities, passing through 11 cities in the region, with over 2,000 participants involved. On this special day, participants donned white tracksuits with red accents, representing unity and enthusiasm.
Among those who carried the torch were former swimming world champion Luo Xuejuan and Daniel Zhang, the CEO of Hangzhou-based tech giant Alibaba. Locals and tourists alike turned out in large numbers to witness this memorable occasion.
Hangzhou resident Shao Yan, 37, shared her excitement, saying, "Lots of people were already here when we got here at 6:30 am. I hope the Asian Games will be held smoothly, and we have more of these kinds of activities in the future."
Tourists from across China also flocked to Hangzhou to witness the event. Peng, a visitor from the southern island province of Hainan, expressed his thrill, saying, "I felt very excited after watching it. It shows that our country is very powerful."
This year's Asian Games is set to make history as the largest edition ever, with 12,500 athletes representing 45 countries and regions. The excitement and anticipation for the Games are palpable, as China gears up to host this prestigious sporting event on September 23, promising unforgettable moments for athletes and spectators alike.