Derna, Libya – September 12, 2023: Emergency workers in Libya have made a heart-wrenching discovery as they searched through the wreckage of the eastern city of Derna. On September 12, they uncovered hundreds of bodies buried beneath the debris left by flash floods that wreaked havoc on the city. The catastrophe occurred after floodwaters breached dams, causing massive destruction and leaving entire neighborhoods washed away.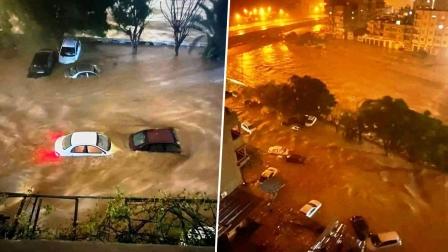 The Tragic Toll
According to the Health Minister for eastern Libya, at least 700 recovered bodies have been laid to rest so far. Meanwhile, Derna's ambulance authority has reported a current death toll of 2,300. However, the true extent of the tragedy may be even more significant. Tamer Ramadan, Libya's envoy for the International Federation of Red Cross and Red Crescent Societies, stated that the number of missing people is estimated to be around 10,000.
The Night of Destruction
The disaster struck on the night of September 10 when Mediterranean storm Daniel battered the coast. Residents heard loud explosions and witnessed the collapse of dams outside the city. This unleashed flash floods along the Wadi Derna river, which runs from the mountains through the city and into the sea.
One resident, Ahmed Abdalla, described the torrent of water as erasing everything in its path. Videos shared by locals online showed vast areas covered in mud and debris, with residential neighborhoods on both sides of the river completely swept away. Even multi-storey apartment buildings were not spared, their facades torn off and concrete floors collapsing. Cars were left piled on top of each other as they were carried away by the powerful floodwaters.
City Left Isolated
In the immediate aftermath of the disaster, the city's 90,000 residents were left to fend for themselves, as authorities from eastern Libya struggled to reach Derna. However, by September 12, most of the eastern government had arrived in the city to provide assistance.
Local emergency responders, including troops, government workers, volunteers, and residents, worked tirelessly to recover the deceased. They used inflatable boats to retrieve bodies from the water. Dozens of bodies were found covered with blankets in the yard of a local hospital. Many more were believed to be trapped under rubble or had been carried out to sea.
Infrastructure Weakness Exposed
The collapse of two dams on Wadi Derna has highlighted the vulnerability of Libya's infrastructure after more than a decade of turmoil. Libya remains divided between two rival administrations, one in the east and one in the west, each supported by different militias and foreign governments. Derna is controlled by the forces of military commander Khalifa Hifter, who leads the eastern Libya government based in Benghazi.
Years of Neglect
Local authorities have neglected Derna for years, with discussions about development often going unheeded. Even basic maintenance was lacking, leading to delays in addressing critical issues.
Aid and Support
Aid began to arrive in Benghazi, a staging ground located 250 km west of Derna. Egyptian military officials, along with rescue teams and helicopters, arrived in Benghazi to provide assistance. The western Libyan government in Tripoli sent a plane loaded with 14 tons of medical supplies and health workers to Benghazi.
The United States, along with Tunisia, Algeria, Turkey, and the United Arab Emirates, promised to assist in search and rescue efforts, coordinating with the United Nations and local authorities.
Impact on Other Areas
The storm also impacted other parts of eastern Libya, including the town of Bayda, where around 50 people were reported dead. The main hospital in Bayda, the Medical Center of Bayda, was flooded, and patients had to be evacuated.
Other towns, such as Susa, Marj, and Shahatt, suffered significant damage, displacing hundreds of families who sought shelter in schools and government buildings in the city of Benghazi and elsewhere in eastern Libya.
A Rich, Green Region
Northeast Libya is known for its fertile and green regions, with the Jabal al-Akhdar area, where Bayda, Marj, and Shahatt are located, experiencing some of the country's highest average annual rainfall, according to the World Bank.
A City with a History
Derna, once a hub for extremist groups during the chaotic years following the 2011 NATO-backed uprising that toppled dictator Muammar Qadhafi, is known for its white-painted houses and palm gardens. The city was largely built by Italy during Libya's Italian occupation in the first half of the 20th century.