In the world of sports, there are often stories of athletes who, despite having an impressive track record, face challenges when joining a new team or league. Daniel Chima Chukwu, a Nigerian footballer, had such an experience when he made his debut in the Indian Super League (ISL) with East Bengal. However, his fortunes changed when he moved to Jamshedpur FC during the January transfer window earlier this year.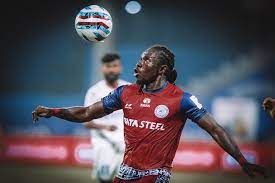 Chukwu, who had previously showcased his goal-scoring and playmaking abilities in Norway and China, struggled to make a significant impact during his maiden season in the ISL. Despite his big reputation, he managed to score only two goals in 10 matches with East Bengal.
However, the 32-year-old Nigerian forward's move to Jamshedpur FC, a city less than 300 kilometers away from Kolkata, proved to be a game-changer. Chukwu made an immediate impact by scoring on his debut for Jamshedpur FC against FC Goa. Since then, he has established himself as one of the most dangerous strikers in the ISL, exciting fans and pundits alike with his skills and goal-scoring prowess.
As the new ISL season approaches, Chukwu is eager to carry his excellent form into the upcoming campaign. Jamshedpur FC is set to open its season on September 25, facing none other than Chukwu's former team, East Bengal.
Chukwu is particularly excited about the new signings that Jamshedpur FC has made, including Serbian striker Alen Stevanovic. He expressed his anticipation of forming a productive partnership with Stevanovic and praised the overall improvement of the team, thanks to the new additions.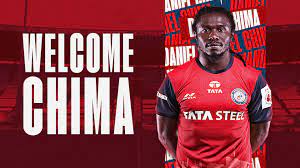 "I have also been training with the other new signings, and the team is shaping up well," Chukwu told The Hindu in a recent interview.
Chukwu credits his success not only to his own abilities but also to the supportive environment at Jamshedpur FC. He emphasized the importance of having a great team, teammates, staff, and management who provide assistance when faced with difficulties.
Reflecting on his time at Molde, a Norwegian club where he played for five years and scored 31 goals, Chukwu shared insights into his playing style. He highlighted his excellent chemistry with Ole Gunnar Solskjaer, who would later become the coach of Manchester United. At Molde, Chukwu developed fruitful partnerships with strikers like Davy Angan of Ivory Coast.
Chukwu also expressed his admiration for Indian players, particularly singling out Ritwik Das as an "amazing player" whom he would love to have as a teammate. He believes that Indian football possesses immense talent and that the Indian national team has the potential to achieve greater success. Chukwu's advice is to bring in experienced coaches and focus on youth development to nurture the next generation of Indian football stars.
As fans eagerly anticipate the new ISL season, all eyes will be on Daniel Chima Chukwu and his quest to continue dazzling the football world with his skills and goals, this time wearing the Jamshedpur FC jersey.
PREPARED BY NEWSNET INTERN SIMON MARBANIANG