Taylor Swift is once again making headlines, and this time it's not just for her chart-topping music or stunning live performances. The pop sensation has recently announced that her highly acclaimed "Eras Tour" will be hitting the big screen this fall, giving fans a chance to relive the magic of her electrifying concerts in a whole new way.
Swift took to social media to share her excitement, describing the "Eras Tour" as the most meaningful and electric experience of her life. After completing the first leg of her North American tour, she thrilled fans by revealing that the tour would be captured on film for all to enjoy. She encouraged concertgoers to embrace the spirit of the "Eras" by donning era-specific attire, sharing friendship bracelets, and singing and dancing along to their favourite tunes.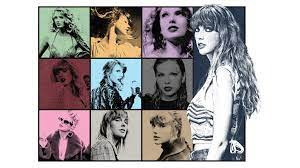 Tickets for "Taylor Swift: The Eras Tour" went on sale at AMC theatres on the same day as the announcement, and it's safe to say that Swift's star power had a significant impact. AMC, anticipating a rush of fans eager to secure their seats, bolstered its ticket server capacity to handle traffic, aiming to break records for ticket sales in an hour.
The movie is set to premiere on Friday, October 13th, in the United States, Canada, and Mexico, a date that holds special significance for Swift, as it's her lucky number. However, AMC warned potential moviegoers of potential delays and site crashes, recalling Ticketmaster's infamous meltdown when the tour was initially announced in November.
Fans wasted no time in posting their excitement on social media, sharing images of seat maps and virtual queues as they eagerly awaited their chance to purchase tickets. Ticket prices are set at $19.89 for adults, a nod to Swift's "1989" album, for which she plans to release a new recording in October, and $13.13 for children and seniors.
This isn't Swift's first foray into concert films, as she has previously released films documenting her "Fearless Tour" from 2009-2010, her "1989 World Tour" in 2015, and her "Reputation Stadium Tour" in 2018. However, "Taylor Swift: The Eras Tour" is unique in that it will be released before the tour itself resumes in November, starting in Argentina before continuing its global circuit and returning to the United States and Canada next year.
The "Eras Tour" has been nothing short of a phenomenon, and it's on track to become the highest-grossing tour of all time, with projections estimating earnings surpassing $1 billion. This incredible success has led to tickets being resold for thousands of dollars on secondary-ticketing sites. AMC Theatres, anticipating high demand, has implemented a strict no-refund or exchange policy for movie tickets to deter speculative reselling.
AMC Theatres has big plans for the movie's opening weekend in the United States, with at least four show times per day from Thursday to Sunday. Other major theatre chains, including Regal and Cinemark, will also be offering show times for the film.
The announcement of the film release also puts to rest a mystery that had surrounded Swift's August performance at SoFi Stadium in Inglewood, California, where a multitude of cameras were set up. Fans can now look forward to experiencing the "Eras Tour" in all its glory on the big screen, complete with Swift's mesmerizing performances and the electric atmosphere that has made this tour a once-in-a-lifetime experience for fans around the world.