The earth is our teacher, and every winter, Taru Mitra demonstrates just that through the noisy, joyous organic rice harvesting festival.
The fields attached to the Taru Mitra bio-reserve in Patna were swarming with students, teachers, a group of transgender friends, and even the Bihar Minister for Agriculture. They all had sickles in their hands and were getting the feel of harvesting the golden stalks of fast disappearing local varieties of rice.
More than a hundred Tarumitra students from St. Joseph's Convent, Don Bosco Academy, May flower, St. Michael's, Litera Valley, Veena Vidya Niketan, St. Xavier's, St. M G Public School, Raza International , Srijan, Tribhuvan, Jaipuria , Adarsh Bal Vidyalaya, St. Dominic Savio's , Baldwin Academy, S R Vidyapeeth, Nai Dharti, St. Xavier's College, A N College and activists from Shanti Kutir and other institutions came together to participate in the Organic Rice Harvesting festival at Tarumitra.
The Agriculture Minister of Bihar, Dr. Prem Kumar as Chief Guest inaugurated the Rice harvesting. After performing the 'aarti' in reverence to Mother Earth, he started 'dhan katni' in Tarumitra's organic farm amidst harvest songs and slogans sung joyfully by all the students and well-wishers present there. (Of course, the Minister said a lot of nice things about the festival, that everyone agreed with!)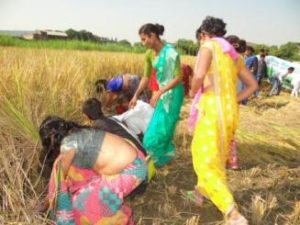 The students were absolutely thrilled, for many it was the first time actually getting into a field and doing harvesting with sickles. Even the teachers and other participants also tried their hands at harvesting.
Ms. Margaret Molomoo, Organic Farmer from Darjeeling spoke  about Organic farming and practices through a presentation just before the harvesting.
Since 2011, Taru Mitra has practiced student led Organic farming. All the sowing, harvesting and threshing is done by  different batches of school and college students, under the guidance of seasoned mentors.
It is an effort to strike an emotional chord between students and  Mother Earth. One hopes that these students go on to   practice and promote ecological sensitivity all around. This is the seventh consecutive year of organic farming where System of Rice Intensification (SRI) method is used for growing rice.  The SRI method was developed in 1983 by the French Jesuit priest Henri de Laulanié in Madagascar.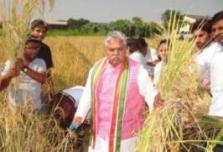 This year the experiment was to grow  three varieties of rice, namely Bauna Mansuri, Kunjunju, Kakhan and all of them fared extremely well. Agricultural expert Ms Margaret Molomoo counted over 250 grains per ear of rice! No chemical fertilizer or pesticides are used on the farm.
The participating students recalled how they prepared tasty Organic Rice gruel during the many Eco-camps they participated during the year. "Rice never tasted this good!" said Saharsh and Anurag of Eco-mitra group in St. Xavier's College.
The process began in July this year.  Over 250 children from eleven schools joined to transplant the rice seedlings last July.
Tarumitra members Devopriya Dutta, Shashi Darshan, DN Prasad, Benaras, Prakash Chandra, Neeraj Raktavir, Fr. Robert Athickal and volunteers from various colleges were present during this joyous program.