Sir
Easter Sunday bomb blasts at three churches and four hotels in Sri Lanka was a terrible bomb blast. It killed more than 310 people and wounded at least 500 innocents. This attack affected not only to Christians or Sri Lanka but to the entire world. The entire world is mourning with this grief.
What was the mistake of those people who became victims of this bomb blast? Because they were happy! They were celebrating! This was truly barbarous assault on peaceful worshippers on one of the holiest days and a first major attack on the Indian Ocean island since the end of a civil war 10 years ago.
Today this incident has united the world. People from all the sides are paying tribute to the victims.
Locally, a candle march was organised in Kurji, Patna for the innocents who got trapped in this incident. In Bihar Buddhist monks conducted a prayer meeting at Mahabodni temple in Bodh Gaya. Monks also conducted a candle light march for the victims.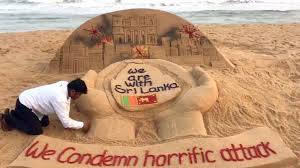 Indian sand artist Sudarshan Pattnaik dedicated a sand sculpture to the incident. In Pakistan, The Human Rights activists mounted a protest against the bombing. Christians of Karachi also held candle light vigil in the memory of the victims.
The Eiffel Tower in Paris went dark at midnight to pay tribute. In Spain, the Santiago Bernabeu stadium held a minutes silence to show solidarity with those affected by it. While all the world leaders from all around paid their condolences to the victims.
This was something which should not be tolerated. This was a murder of humanity and cowardly attack on the worshippers and has been condemned by the entire world. We need to come together and fight against the terrorism. We need to conquer terrorism.
Yours truly
Seema Kumari