Fall in sex ratio has not only demographic impact, but also leads to trafficking of women and bride-buying. The Supreme Court on Friday refused to dilute stringent provisions of the PNDT Act under which a medical practitioner could be sent to jail for up to three years for even anomalies in paperwork and not keeping records of patients.
Referring to United Nations report, the court said that more than 4.6 lakh girls went missing at birth on an average annually during the period 2001-12 as a result of sex selective abortions and justifies the stringent provisions under the Act to maintain sex ratio and social balance in the society.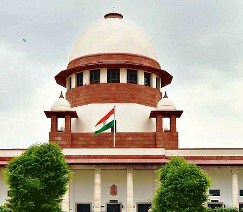 A bench of Justices Arun Mishra and Vineet Saran dismissed a petition filed by Federation of Obstetrics and Gynaecological Societies of India (FOGSI) which challenged the validity of Sections 23(1) and 23(2) of Preconception and Pre-natal Diagnostic Techniques (Prohibition of Sex Selection) Act which says that criminal proceedings would be initiated against geneticist or gynaecologist in case of any violation of the Act and their registration could be suspended indefinitely during the pendency of trial.
The Federation said the law was being misused as criminal cases were being launched even in cases of clerical errors in maintaining records of patients and pleaded that the provision should be read down and licence of doctors should be
suspended only after conviction under the Act. It said authorities seal the sonography machine and file a criminal case even if there were mere anomalies in paperwork.
"Suspension of medical licence at the stage of framing of charges is highly improper and harsh, which results in loss of livelihood of not only the members of the Society but also their dependents as well as family, who are deprived of financial security and well-being. The provision is unconstitutional as it assumes the guilt of an alleged accused even before conviction," it contended.
The court, however, refused its plea and said, "Considering the evils sought to be remedied it cannot be said that the imposition in the Act in question is disproportionate. The restrictions and the provisions of punishment have close nexus with the object sought to be achieved. It is not possible to term action as merely clerical one as that is pre-requisite for the test/procedure and that is what is intended by the Act, if it is given a go-bye under the guise of clerical error, the Act would be rendered otiose".
It also noted that there are only 586 convictions out of 4,202 cases registered in the Act in the last 24 years. "It reflects the challenges being faced by the authority in implementing this social legislation," the court stated.