The platform of Sasaram Railway station, located in Bihar's Rohtas district, has been functioning as an impromptu study centre for students for almost 20 years now.
It all started in 2002-2003 when a few students started coming to the railway station to study. The reason was that the railway station was the only place in the town that had electricity supply 24×7.
Now nearly two decades later, the practice continues as one finds youngsters in hundreds huddled together or sitting alone, going through books preparing for entrance and competitive exams for Government jobs, Railways, banks, and private institutions and also job interviews. The station's study group is called Quiz.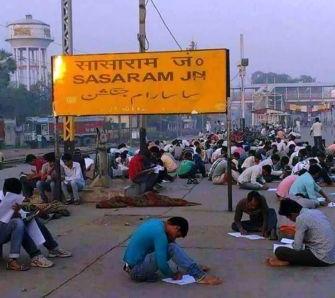 The even truly amazing fact is that none of the students coming there to prepare are made to pay anything for learning and preparing for their examination. Mock questions papers required for preparation are also available for a small amount.
A beneficiary Santosh from Kochas in Rohtas district said in a interview with HBL, "It helps to sharpen the competitive edge. I will sit for every exam that I am eligible for. I may not clear at the first instance, but at least I will get the exposure and do better next time."
The students participating in the group have a very routined and disciplined way of pursuing their goal. Sandip Kumar Srivastava who comes from Sila village in Kochas told media: "Not only is the environment at these coaching classes conducive but the methodology adopted by the groups also ensures weeding out of non-serious students. If any student missed the sessions for even two days in a week, he is ousted from the group unless he has a credible reason to be absent. A list is put out on the students' performance group-wise."
Mock exams too are conducted to make the candidates ready. The effectiveness of this centre can be gauged from the fact that anyone who joins Quiz clears at least one exam to get a job.
Togetherness at work
Railway authorities play a vital role as they help the students and have provided them identity cards to avoid any harassment. Further the youngsters ensure that the place is kept neat and clean and that they don't disturb anyone. Also the passengers who come and go try to avoid disturbing the students busy studying.
One of the mentionable fact is that the teachers who teach are not paid. They themselves volunteer to teach, and serve the community by helping students in need to actually realise their dreams.
Besides, there are some teachers who are teaching in regular paid institutes who too contribute by teaching here free. Seniors and those who have passed out also drop in to guide the new candidates.
When the students sit together and study, is a sight to behold and a statement of how determined the young India is towards their dreams.
[Prepared by Nishant Mishra from available sources]