In the realm of education, teachers are often hailed as gurus, motivators, and even second parents. They are seen as visible gods guiding the path of knowledge for their students. As the world celebrates Teacher's Day, we take a moment to recognize the unsung heroes, like Sister Kanthi Kullu, whose dedication to education has transformed the lives of generations in a remote corner of India.
Sister Kanthi Kullu, a retired school headmistress and a member of the Kharia tribe, stands out as a remarkable educator who dedicated the majority of her life to enlightening the poorest of the poor. Her journey into the world of teaching and missionary work is nothing short of inspiring.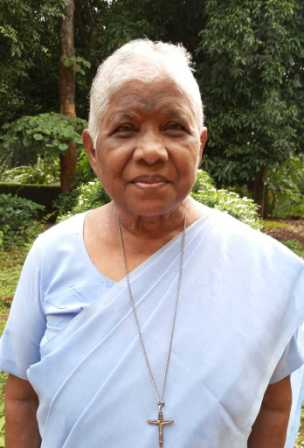 Growing up in the 1950s, education was a distant dream for tribal children, especially girls, in the Chotanagpur region of Odisha, India. Residential schools were a rare privilege for those who could afford them, and the journey to acquire knowledge was arduous.
However, young Kanthi defied the odds, walking for miles each day through dense forests and valleys to complete her upper primary education. Economic hardships momentarily forced her to take up cattle grazing to support her family, but fate had other plans.
A turning point in Kanthi's life came when a German priest visiting her village offered to support her further education. With determination, she completed her Bachelor of Arts and Bachelor of Education degrees and began her career as a teacher in a mission school. However, her journey was far from over.
In 1973, the Holy Spirit Sisters opened their first convent in Odisha, and Sister Kullu embraced this opportunity to become a missionary herself. She often reflects on how one missionary helps another become a missionary—a profound belief that guided her throughout her career.
As an experienced teacher, Sister Kullu was appointed to a school managed by the Sambalpur diocese in 1984. The school was situated in the heart of a forest, surrounded by scattered tribal hamlets. Despite its idyllic setting, the school lacked basic facilities. Classes were often conducted under the shade of trees, with venomous snakes, wildlife, and insects posing constant threats. Evenings were spent with students, their only source of light a kerosene lantern.
It would take another decade before the school finally had a stable electricity connection, albeit with frequent voltage fluctuations. Many of the students were uninterested in academics due to their challenging socio-economic circumstances and cultural backgrounds. They preferred exploring the forest and collecting its resources. Sister Kullu faced the daunting task of instilling a love for learning within them and keeping them within the school premises.
The distance between the convent and the school was less than a kilometer, a journey Sister Kullu undertook daily on her bicycle to maximize her time. She would often be heard urging students to attend their classes as she pedaled past them. Due to a shortage of teachers and office assistants, she had to shoulder additional responsibilities, including clerical work.
To procure stationery, visit offices, access basic amenities for the school, or seek medical assistance, they had to embark on a 15-kilometer journey through a forested road to the nearest town, devoid of public transportation. Their journey was fraught with dangers, from wild animals to unpredictable river floods.
For 25 years, this was Sister Kullu's life until her retirement in 2010. Her heart remained intertwined with the students she had nurtured and educated. Even after her formal retirement, she returned to the school after a few years to provide tuition to the children, a testament to the undying teacher within her.
Sister Kullu's dedication and hard work were unwavering, despite the primitive conditions she faced. Her commanding voice and the stick she carried not only protected her from wild animals but also guided her students out of hiding places. While accolades and awards eluded her, and her school didn't reach the top of any lists, she steadfastly believed that education would change the future of generations.
Years later, her belief was vindicated as the same school began to win numerous accolades, with most of the winners being children of Sister Kullu's former students. Her greatest reward was the education she imparted to tribal children in an underprivileged region of India during her 25-year teaching career. The unsung hero continues her duty today.
As those she educated have dispersed across the globe, Sister Kullu, affectionately known as "Didi" (a term used for teachers in Odisha), remains seated under a tree, wielding her small stick and raising her voice to impart knowledge. Her dedication may have faded over time, but her impact on the lives of the tribal children she educated remains indelible—a testament to the power of a dedicated teacher's influence on generations to come.