Guwahati: The First Guwahati International Film Festival (GIFF)  ended  with  the Dadasaheb Phalke Award  filmmaker Adoor Gopalakrishnan praising it  as "one of the best" in the country.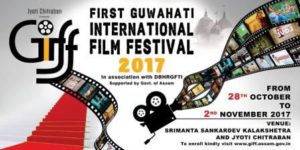 "I am overwhelmed because with the very first festival, Assam has established itself as one of the best in film festivals in the country," said Gopalakrishnan, who graced the closing ceremony as the chief guest.
It was a  six-day film extravaganza indeed. 78 films from 32 countries were screened with a galaxy of national and international film personalities walking  the 'Red Carpet'. It was the first major film festival for the entire Northeast, say observers.
"When you make such a big festival at the very first attempt, you will overtake everyone else in future. The GIFF has been very professionally handled," said Gopalakrishnan.
He  suggested that the  government construct a permanent  five screen venue to hold film festivals in future. The filmmaker, suggested that Guwahati could field a competition section for  South Asian films, including those from India, Pakistan, Burma and other neighbouring nations. Let us not go beyond that. It will be very difficult," Gopalakrishnan said.
Theis year, GIFF had competition section only for Assamese films, where the Sankar Borua-directed 'Khandobdaah' (Grief on a Sunday Morning) took top honours.
'Antardrishti' (Man with the Binocular) by Rima Das awarded the second best Assamese film, while 'Haanduk' (The Hidden Corner) of Jaicheng Jai Dohutia received the Special Jury Award.
Prasanna Vithanage from Sri Lanka was the chairman of the Jury, while other two members were B Lenin and Sanjib Sabhapandit.
The closing film of the six-day film extravaganza was 'Perekonnavaled' of Estonia, directed by Valentin Kuik and Manfred Vainokivi.
The Assam government supported festival began on October 28 with screening of the Oscar winning 'The Salesman', directed by Asghar Farhadi and produced by a joint collaboration of Iran and France.
The State Government-owned Jyoti Chitraban (Film Studio) Society organised the festival in association with the Dr Bhupen Hazarika Regional Government Film and Television Institute.
Cine lovers watched five films from Turkey, the focus country, and six from Farhadi's country in the Contemporary Iranian Cinema section.
The five films of Turkey were 'Ember' directed by Zeki Demirkubuz, 'Yarim' by Cagil Nurhak Aydogdu, 'Toz Bezi' by Ahu Ozturk, 'Rauf' by Baris Kayer and Soner Caner, and 'Kalander Sogugu' by Mustafa Kara.
Six Iranian movies that were screened at the GIFF are 'Dokhtar' by Reza Mirkarimi, 'Rokha Divaneh' by Abolhassan Davoodi, 'Malaria' by Parviz Shahbazi, 'Raftan' by Navid Mahmoudi, 'Valderama' by Abbas Amini and 'Inja Kassi Nemimirad' by Hossein Kondoir.
Important films from Switzerland, Germany, Spain, Argentina, Poland, Croatia, Serbia, Slovenia, Latvia, Japan, Belgium, Ireland, Czech Republic, Bulgaria, Israel, Greece, Austria, Russia, Philippines, Afghanistan, Peru, Romania, Denmark, Cyprus, Estonia and the US were also shown.
The GIFF had sections on World Cinema, Indian Panorama, Retrospectives, Cinema of North East, Cinema of Assam and the Tribute.
The list of Assamese films included renowned director Jahnu Baruah's 'Hkhagoroloi Bohu door', 'Ajeyo', 'Halodhiya Choraye Baodhan Khai' and 'Konikar Ramdhenu'.
Films by pioneering filmmakers of Assam — Dr Bhupen Hazarika ('Shakuntala'), Abdul Mazid ('Chameli Memsahib') and Dr Bhabendranath Saikia ('Sandhya Raag') were also shown.
An important feature of the festival was Open Forum sessions on topics related to films and the region as well as Master Classes by film personalities in their respective fields.
Film personalities such as Adoor Gopalakrishnan, Shaji N Karun, Jahnu Barua, Resul Pookutty and A K Bir were associated with GIFF in various capacities.
[contributed by Deb Boruah]