"Boys kiss boys, Girls kiss girls", was one of the slogans being shouted by a group of gay and transgender people marching through the narrow lanes of Patna. On 14th June, (Sunday evening) the residents of Kadamkuan locality witnessed the Pride Parade which was a celebration on Non Binary day. People who identified themselves a part of the 'LGBTIQ' community were happily smiling in their best clothes and at the overwhelming support of the larger heterosexual community who wore face paint in six colours of peace and pride.
This Pride Parade which was organized by Dostana Safar, started off from the Hindi Sahitya Sammelan building at Kadamkua and marched to Premchand Rangshala.
The parade danced its way on various songs played through a moving sound truck. Following the dancers were students of St. Xavier's Colleges, Nari Gunjan and Patna Women's College. These students were holding a 'transgender pride flag' which was 500 metres long. It was Patna's attempt that the flag make it to the Guinness Book of World records.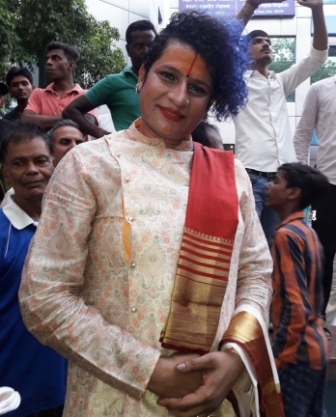 Rahul, a transman from Uttar Pradesh has done M.A B. Ed. He does stage shows, Raamleela and Raasleela. He said, " my hearty thanks to Supreme Court who thought so much for us. Government has done their work, rest is on public to accept us. Whenever we travel by train people present in the train gives weird looks. I have not a tail .We are also humans just like everyone.".
Siddhant, an undergraduate from a college in Patna city, who identifies as gay, isn't fully out of the closet. He said that it was his first pride parade. He spoke of victimization at an early age. He said that when he was about 12 years old, lost his way and approached a policeman for help, the cop actually turned out to be a predator. He said that he was extremely happy participating in the parade.
Pooja Kaushik, writer of an online portal (Patna Beats) said, "In 2017 also I had attended the parade compared to that parade this time I can see immense support from the other local people".
This parade led to Premchand Rangshala where Xavier Theatre Club presented "Flash Nukkad". It aimed to aware the general public about how simple and normal are LGBTIQ people and there is nothing strange about it. This nukkad was written by Jai Singh Rathore and directed by Amar Sharma. Shivani, Ayan, Ishiqa, Ayushi, Akshay, Sarthak Hans, Sweta, Nishant, Ritika and Pratik acted in this play.
And then inside the Premchand Rangshala, the program started with Mahabharata played by a group of artists (Nisha, Deep, Shagar and Ankit) from Kolkata. Sakira, a trans woman and a western dancer performed dance on Raasleela. And with the similar series of performances, the program came to its end.
Tanya Trivedi